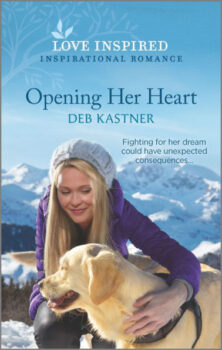 Rocky Mountain Family #2
December 29, 2020
Harlequin (Love Inspired)
Available in: Paperback, e-Book, Large Print
Opening Her Heart
Fighting for her dream could have unexpected consequences…
She can handle the Texan threatening her plans…
But can she resist his adorable little girl?
The Colorado mountain cabin is perfect for Avery Winslow's dream—a B and B for service dogs and their families. Except fast-talkin' Texan Jake Cutter wants the land for a luxury resort. Now Avery's fighting for her dream and her town. But Jake and his sweet little girl have already charmed Avery's favorite service dog…and her guarded heart might just be next.
From Harlequin Love Inspired: Uplifting stories of faith, forgiveness and hope.
NOTE: eBook edition published January 1, 2021.