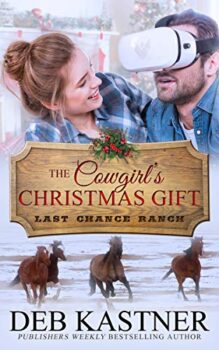 Last Chance Ranch #1
August 13, 2019
Indie Published
Available in: e-Book, Trade Size
The Cowgirl's Christmas Gift
When a couple of mischievous six-year-old twins show up on Maisey Gray's property and scare her horses, she's ready to let their VR glasses-wearing, socially-awkward guardian have a piece of her mind. She soon learns there's much more to Cam than meets the eye, but he's the twins' permanent guardian and she isn't mother material. Can an adorable set of twins, a snowstorm and a wild horse bring this cowgirl a Christmas gift she'll remember forever?
Cam didn't move to Hope, Wyoming in search of romance, but when he suddenly becomes the guardian of his sister's twins, he needs neighbor Maisey's help more than ever to make everyone's Christmas wishes come true. Celebrating Christmas with Maisey creates a special bond. But is it virtual reality, or is it the start of a forever family?
Originally published May 2019 in eBook by Daydreamz Publishing.