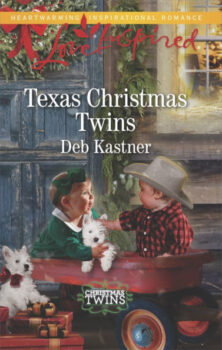 Part of a Continuity
December 1, 2018
Harlequin (Love Inspired)
Available in: e-Book
Texas Christmas Twins
Christmas on the Ranch
Miranda Morgan's Christmas will be twice as busy now that she's guardian of her sister's sweet twin babies. But the celebrity photographer is happy to trade a glamorous LA lifestyle for motherhood in her small hometown of Wildhorn, Texas. Unfortunately, the twins' handsome godfather, Simon West, is unconvinced. The brooding rancher isn't thrilled about letting sunny, spontaneous Miranda into his carefully managed world. Though they disagree on almost everything, Simon and Miranda discover common ground as they work to make the twins' first country Christmas cozy and bright. Could this holiday transform Miranda and Simon's tentative friendship into a forever love?
Book 3 in the 2017 Christmas Twins Trilogy Continuity series with Lee Tobin McCain
NOTE: Mass market paperback edition published November 20, 2018.